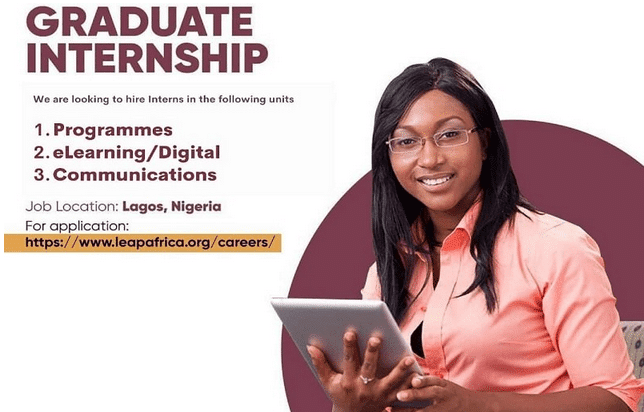 LEAP Africa NYSC Graduate Internship 2021 for Young Nigerian Graduates
LEAP Africa is a youth-focused leadership development nonprofit organization with a mission to inspire, empower and equip a new cadre of leaders with skills and tools for personal, organization and community transformation. Its interventions for youth, bridges gaps in effective leadership, education, employability, entrepreneurship and awakens civic participation in citizens to demand good governance or creatively address social issues.
LEAP Africa is a non profit organization focused on raising dynamic, innovative and principled leaders who will drive positive transformation in Africa. We provide relevant and tailored interventions that support effective youth transitions in the area of education, entrepreneurship & employability, civic participation and social mobility for young Africans.
We are looking to hire Graduate interns into the following units: This internship is for graduates who have been recently mobilized for NYSC.
They are recruiting interns for the following units:
1) Programmes
2) eLearning/Digital.
3) Communications.
Eligibility
This internship is for graduates who have been recently mobilized for National Youth Service Corps (NYSC) Scheme. Therefore applicants must be Nigerians.
Applicants should be serving in Lagos.
Requirements
Programs Intern

Smart and well articulated
Strong project Management skills – Interest and experience in program management, research curriculum development, event planning
Proficient in G-Suite, Microsoft office – Word, Excel PowerPoint
Very good communication skills – Verbal and written

eLearning/Digital Intern – Requirements

Background in digital services
Technology savvy and able to adapt tech tools to create innovative services and products
Interest in creating digital/e-Learning experiences
Good writing and conceptualization skills
Proficiency in the G-Suite, MS Word and MS PowerPoint

Communications Intern – Requirements:

Very good writing skills OR IT and web design skills
Social media marketing
Application
Kindly fill the application form. Only qualified candidates will be contacted
Location: Lagos, Nigeria
Apply Now for the LEAP Africa Graduate NYSC Internship Programme 2021
For more information, visit LEAP Africa.